Many of us know Peter Illavsky as a famous musician, singer, and composer from Vienna, who as a child prodigy began making music at the age of five. Fast forward many extraordinary music-creating years, Peter cheerfully finds himself in Belize, on the beautiful island of Ambergris Caye. He is sitting on a serene, white sand beach having a chat with Patrick Hiebert, ECI Development's COO. Peter remarks, "What's happening on this island is absolutely amazing."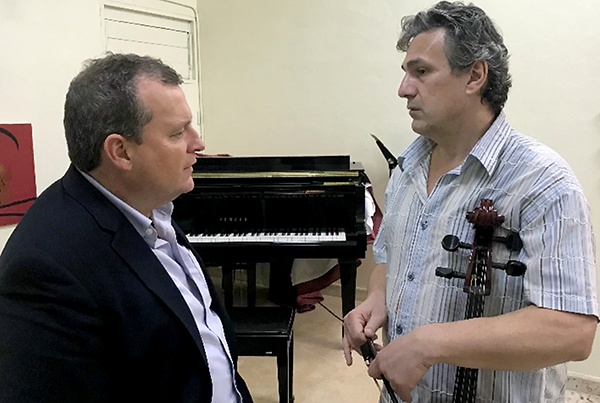 So how did Peter make the decision to come to Belize? He tells Patrick that he first met Joel Nagel, Co-Founder of ECI Development some years ago. He taught music lessons to Joel's daughter while in Vienna. One day while they were all talking, Joel and his wife told Peter about a beautiful Caribbean country called Belize. After talking, they agreed Peter would come to Belize for a week to with local musicians and "help organize something great with them." He then adds that the music they make in Belize is "beautiful, it's real, it rocks you."
As one can imagine, Peter being in Belize is a quite a big event, as it would be anywhere. But it's good for Peter as well to be surrounded by beautiful turquoise waters and incredible beaches. Belize is "Paradise, it's wonderful."
He tells us his life in music all began by him being born into it. Since his father was an accomplished opera singer, Peter was surrounded by music. He started early playing the violin when he was just a young boy, and his father sent Peter to study and train with the Vienna Boys Choir. He traveled and toured the world with them and has many fond memories.
"Music has stuck with me ever since. It's fun for me, even today."
"Music brings people together, and people who are in music usually have fun. It's a good time always, party time."
Peter has had many influential role models in his life. Of course, his father was his first shining example. Also, there were plenty of mentors for him in Vienna. With so many wonderfully talented people in the industry, he has had the pleasure of meeting and working with a great array of artists and performers over his lifetime. "You come together and learn from so many teachers," he explained.
He's especially thankful for the teachers in the Vienna Philharmonic Orchestra, and recalls one person in particular- the founder of the Vienna New Year's Day Concert of Classical Music. "It was great for me to be at the source of the classical music. It's what's in my heart."
Wherever he goes his strongest desire is to bring people together by making music. "Living peacefully together and creating something beautiful," is what is important to him.
So, where has music taken Peter? After he finished his studies, he lived in Verona, where there is a huge outdoor opera arena. From there he went on to work with Luciano Pavarotti, Placido Domingo, and Jose Carreras, which was "quite a good thing for me."
Later he received a contract to be a teacher at USC in Los Angeles, which he calls "A big move." While he was in the United States, he became involved in studio gigs, where he had the opportunity to work in several studios making recordings with people like Barbara Streisand and the band Chicago. Also, while living in L.A., he studied with the voice teacher for Michael Jackson and Whitney Houston. Thereafter, he moved to Granada, Spain and joined the Orchestra of Granada and performed with the Philharmonic Orchestra.
"Then," Peter told us, "I became independent and formed my own music festivals and opened my first private music academy."  In time, this led him to Germany, and just 2 years ago he came full circle – back home to Vienna.
Peter has many artists that he thinks the world of and a few of them who cometo mind these days are the Berlin Philharmonic. "They are just great and I love them all." He also has an upcoming performance with the wonderful Cecilia Bartoli. "She's great and I am happy to perform with all these people."
When asked what Peter would do if he weren't a musician, he proudly states, "I think I would be on the beach and sell coconuts."
Regarding Belize, Peter views the country as "Quite impressive. When you arrive at the airport, you think, 'this works.'  It's humbling, it's easy, it's beautiful – different cultures and languages, living together."
Then there is the Belize food and lifestyle, which he is quite fond of. "Of course there are bananas, coconuts, watermelons – everywhere.  It's a very relaxed lifestyle, similar to Spain – you live with the sun, you know. What problems could you have?"
During his trip, Peter gave the Foreign Minister of Belize a very special gift from the music institute, a beautiful violin from Austria and stated that they "Will do more of a cultural exchange between Austria and Belize."  They also have a plan to set up various centers in the 6 different districts of Belize, where all the teachers can become more independent and live on their own, without any subsidies. "They will be taught to become more successful by touring, doing chamber music, appearing in different venues such as weddings and parties, and most of all have fun making music."
When asked about any one thing in particular that has stood out to him the most in Belize, Peter thoughtfully replies, "The watermelon juice. I love it!"
Thank you so much Peter Illavsky for taking time out of your busy schedule to talk to ECI Development and for everything you are doing for Belize. You can trade your music for watermelon juice anytime.
To read more about ECI Development's latest project on Ambergris Caye with Marriott click here.
ECI Development delivers affordable luxury residence and resort communities in Central America, providing our clients with various premier lifestyle options from the Caribbean to the Pacific. ECI delivers inspired residences for adventurous souls.
Coupled with over 20 years of inherent Corporate Social Responsibility in the communities where we work, ECI Development is building a sustainable business that is going to be around for the next 100+ years.